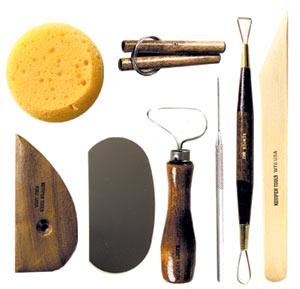 This tool rental is sold exclusively to students taking classes at The Potter's Center. The tool rental includes basic pottery tools, a Mud tools red rubber rib, serrated rib, and two Speedball throwing bats, sold at 25% off.
-You will receive your tool rental the first day of class.
-Once class is complete, you can choose to either keep your tools or return them to receive a full refund. 
-Students are responsible for returning cleaned tools to the retail shop at the potters center. If there are any missing tool(s) from the rental, the price of replacing the tools will be deducted from your refund. 
***Please refer to our class about page so you come prepared the first day!***
***When checking out, please include your phone number so we may contact you in regard to further class information***