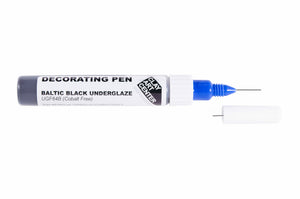 Our new decorating pen hits all the marks!
refillable
self cleaning cap
20 gauge tip
Filled with our UGF 64B – Baltic Black (cobalt free) underglaze, the pen holds up to 1 oz. of your favorite glaze/underglaze, slip or even wax resist!
If using with wax resist recommend dedicating a pen to only wax to limit cross contamination and we also recommend using our CER-A wax or Resisto wax for clean lines.