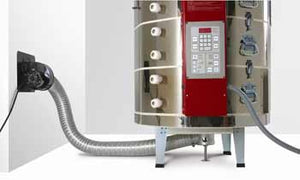 The EnviroVent 2 is what is known as a Downdraft Vent. Downdraft vents actively remove fumes from your kiln before they can enter the room and vent them outside keeping your studio free of smell. It works by using a wall mounted fan to draw a very small amount of air through holes drilled in the slab (floor). The amount of air drawn is determined by the number and size of the holes drilled. Holes are also drilled in the lid in a specific pattern designed to direct the air in a way that does not affect your ware.
These holes can be drilled in the factory when you order your kiln or easily drilled in your classroom or studio simply by following the instructions in the manual. We even provide you with the drill bits!
The Skutt EnviroVent was the very first commercially available downdraft venting system on the market, introduced in 1987. To get a more complete understanding of how the EnviroVent works watch the video by clicking on the link below.