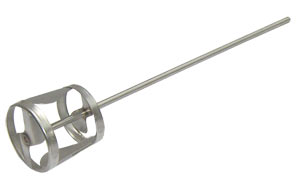 Made of Stainless Steel 304. No splashing, no sucking air, and fast mixing cuts time up to 90%. Operated within 450-700 rpms will give the best rate of thorough mixing. Great for glazes, slips, plaster, and many other substances. 6x6x22
Mixer Size
Shaft Length
Top Diameter
Bottom Diameter
Depth of Head
Shaft Diameter
Ship Wt.
2-5 gallon
20 ½"
521 mm
3 ¼"
83 mm
3 ¾"
95 mm
3 ¾"
95 mm
3/8"
10 mm
1 lb. 7 oz.
Jiffy Mixer is an all purpose, heavy duty, extremely efficient industrial/commercial mixer. It is designed to quickly and thoroughly mix dense and viscous substances in an open container. It eliminates waste and unwanted aeration of materials in addition to cutting mixing time up to 90%.

It is equally effective with liquids, dry materials, liquid and dry materials combined, or multiple component materials.

Made of polished stainless steel 304, its construction and design is for mixing, not just stirring. Its various sizes fit standard 1/4", 3/8", 1/2", 3/4" chucked power tools.

It has two sets of specially welded blades. The vertical ones keep the mixing action between them, the horizontal ones employ an exclusive hydraulic-flow principle that prevents sucking air. In addition, the horizontal blades pull the high density material up from the bottom while forcing the low viscosity solvents down from the top.

All stress joints are specially welded for extra strength so it is virtually impossible for them to break.