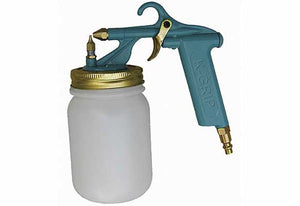 Now with an unbreakable plastic jar, the
K-GRIP™ Siphon Gun
is an economical way to spray latex, enamels, stains, lacquers, and glazes
Operates using an air compressor as small as 3/4HP; consumes 3 cfm @ 90 psi.
Air, not liquid, passes through the internal parts (unlike conventional guns), so it performs more like a large airbrush and is easier to clean.
1/2" to 2-1/2" circular pattern. Adjust liquid feed nozzle up or down for material control.
1/4" NPT fitting included. 16 oz. plastic jar can also be used for airtight storage.
7-1/2" high; 15 oz. shipping weight.
Imported.