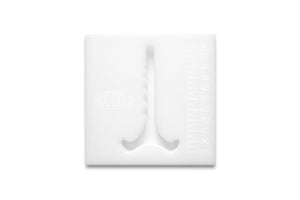 Precision Extrusion Dies - Designed to fit in any 4 inch square extruder, our new Test Die makes your glaze testing streamlined.  It has hills and valleys so you can see how your glaze will break, flow and pool.  The foot allows it to stand  while the glaze is drying and in the kiln when firing.  It also has an integrated shrinkage gauge!  This allows you to see how much your clay shrinks from wet to fired, a must for production where consistency is vital.
Highest quality material available-Very strong and smooth, it allows the clay to move through the die into compression & flow out so you can work directly out of the extruder without sharp edges.
Made to engineering standards & precision, the Test Die is durable, tough, water and corrosion resistant - This tool should provide a lifetime of service.