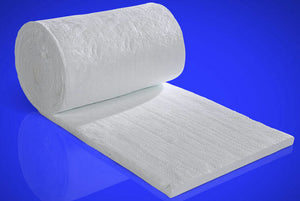 A Lightweight, flexible batting made from bulk ceramic fibers. An excellent insulating material. It is manufactured like fiberglass insulation, but designed to withstand much greater heat.

We sell it by the running foot in 2 sq/ft increments:
1 running foot= 2 sq/ft=12"x24"
2 running feet=4 sq/ft=24"x24"
3 running feet=6 sq/ft=36"x24"
etc.
Fiber particulates are definitely  dangerous to breath and are quite irritating to the skin. One must wear proper PPE to handle this material during cutting and installation and whenever the fiber will be disturbed in use.