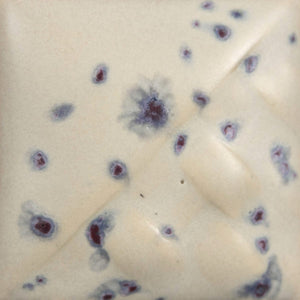 Cone 6: Indigo Rain is a matte white glaze that contains a two-toned purple and violet crystal. As the crystal melts, a purple crystal with violet specks appears. The glaze has a soft subtle beauty.
Cone 10: Color darkens to variegated light gray/purple. Crystals melt.
TIP: SW-106 Alabaster is the base glaze. For a lighter crystal effect, you may try applying two coats of SW-106 Alabaster with a third coat of SW-153 Indigo Rain.