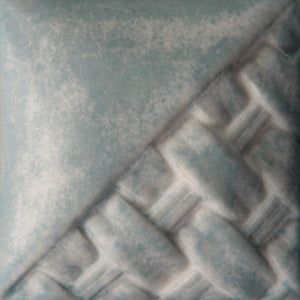 Cone 6 oxidation (larger image): Storm Gray is designed to produce a medium gray to white variegation depending on application. One coat will produce a medium gray matte finish with little white variegation. Subsequent coats build a white variegation, muting the medium gray.
Cone 10 reduction (smaller image): Off-white variation darkens. Gray variation turns blue.
TIP: Thinned coats produce a medium gray satin finish. Thick applications will increase white variegation. Brush stroke application is visible in finished results. We recommend applying coats on bisque in different directions (crosshatch). Although finish appears opaque, surface decoration can be easily seen through glaze.