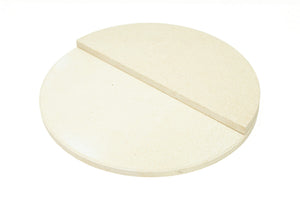 High Alumina kiln shelves are a good alternative to expensive silicon carbide while being roughly half the price.  These shelves have up to 12% more alumina than standard Mullite/Cordierite shelves that most commonly used. This gives these shelves a higher firing range, up to Cone 11 or 12. They are quite durable and not subject to thermal shock problems that afflict shelves that are mainly composed of alumina. We have had great success with these shelves in gas and electric kilns. You can save your back by buying thinner shelves that are stronger than their 1″ counterparts in the less durable compositions.
These shelves measure 26″ full round and 13 x 26″ for the half round BOTH VERSIONS ARE 0.75″ THICK. Will fit 12 sided kilns such as the Skutt 1227/1222/1218 models.
Extra packing and handling fees may apply when shipping shelves.
Caution: Because of the wide variety of applications that kiln shelves are subject to, neither the manufacturer nor The Potter's Center are able to guarantee their performance to the purchaser. The purchaser must inspect all kiln shelves for defects in material or workmanship upon receiving, as claims after that date will not be accepted.